Madhavan - Run T Nagar Run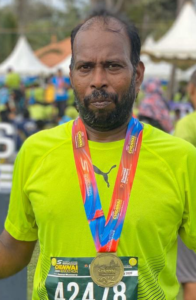 A journey of a thousand miles does begin with a single step.Only in this case, there was a bus ride as a prelude to it….! Panagal Park, T Nagar, in Chennai, is where one jostles for a foot hold during the day. It however wears a surreally pristine look in the wee hours of the morning, when Run TNagar Run (RTR), the TNagar chapter of Dream Runners, gathers each day to further script their running journeys. 
Back in 2016, watching this daily from his bus ride to work, Madhavan wanted to be a part of this ever enthusiastic group. From then to now, Madhavan has become an integral part of the RTR and Dream Runners family, incredibly completing 10000 Km of running in 4 years.
He says with pride, " In 2013, even before I seriously took to running, a sudden hernia operation resulted in high sugar levels and the doctor prescribed medicines permanently, as a way to manage it. I took up the challenge to cure myself by falling back on physical activity rather than medication. I took to walking as an activity and became very disciplined with it. Within 3 months, my sugar levels came down and in control. It was a more a surprise to my doctor than me. Since then, I am a huge advocate for physical activity for health management. Running has only furthered this conviction"
Always a sports enthusiast in his school and college days, Madhavan played Kabaddi and was also middle distance runner back then. He is also a qualified national level Kabaddi referee. Time permitting, he still officiates Kabaddi matches. 
Madhavan is an enthusiastic participant in running events. Though having a job which works in shifts, he plans diligently to manage time for training regularly. Of course, he credits his wife especially for enabling and facilitating his endeavours.
DRHM-2017 is one his favourite events where he  finished the HM with a time of 2:32.His first FM was at Hyderabad which he successfully completed in 6:10. He has improved that to 5:25 earlier this year in the Chennai Marathon.
But events apart, what he really enjoys are his Sunday long runs from Panagal Park to RBI with his RTR family….a time for FUN, FITNESS and FELLOWSHIP..! He attributes and thanks profusely the entire RTR family for whatever he has achieved in his entire running journey.
Wishing Madhavan many more successes in his running journey and hoping that many more get inspired by him to join in.
Prashant Sankaran
Dream Runners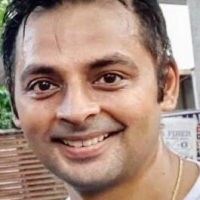 #LetUsRunSoTheyCanWalk #RunClean #RunResponsible #SheShouldRun