Rajesh Kumar- Medavakkam Dreamers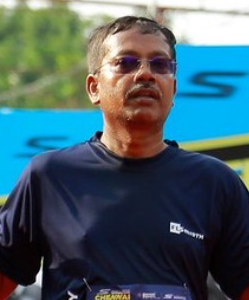 It was 2016 when his co-worker may have said… 'Let's take this outside…..!' No,  it was not to settle scores of any kind but to kick start a lifestyle of health and fitness. For Rajesh, it was that stage of life when the after effects of a period focused on work and career, at the cost of neglect of health, started to show up on medical test reports. A casual discussion with Pranesh , his co-worker, and member of Medavakkam Dreamers, introduced him to the group and the world of running.
Says Rajesh,' I was of course a skeptic to begin with, doubting my own ability to do this. That notwithstanding , I just started to turn up with sincerity and consistency for the Free Structured Training program offered by Dream Runners at our chapter. There has been no looking back since then'
Admittedly, running has helped him mitigate signs of decline in health parameters but more than that, it has come to be an important means of self discovery and awareness. It's also been a catalyst to embrace the people and the culture of the city he moved to from Patna, Bihar in 2008.
Now a regular at the running events circuit, Rajesh's favourite is, of course DRHM, as he credits the event and the training offered as his reason to make the foray into running. Aside from that he has run many events including an Ultra Run at Kolli Hills.
Says he,'I have been very conscious about injury during running and I can say that for the last three and half years of my running has been completely free from injury and covered 4500 km of running and 2000 km of cycling. My timing for different categories of runs are 10km – 1:04:46 (ISHM 2019), 21km – 2:30:54,32km(20 miles) – 4:22:31 SPCM2020."
He credits Medavakkam Dreamers for all his progress."Many days when you feel lazy to run but get inspired by running posts by others. Our Fun filled group run with post run laughter and breakfast  helps forget all the pains. This group helped me in knowing and socializing with so many people with different cultural and social backgrounds."
Here's wishing Rajesh a lot more miles and smiles in the years ahead…!  
Prashant Sankaran
Dream Runners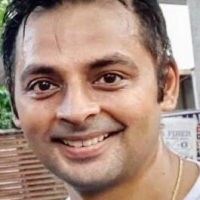 #LetUsRunSoTheyCanWalk #RunClean #RunResponsible #SheShouldRun