The year was 1913, a metallurgist was trying various alloys to make gun barrels. He was putting aside the ones not meeting his requirements and moving on. A few months later he was looking at the pile of metals which he put aside. They had all rusted, except one. He looked at it and tried to understand what happened, this had 14 percent chromium and it had formed an impenetrable layer over the steel and thus preventing rust. Stainless steel was born….
And somewhere between 1974 to 2020, such a discovery happened and a person decided – he will not rust. Here is a tale of our own such inspirational person "Steel Murughesh" as he is affectionately called in the VMR dreamers chapter of the dream runners.  He is a person whose humility is endearing. His tales and anecdotes of all that he enjoying being in the company of runners are heartwarming. 
Steel Murugesh was born in Vedakarisalkulam, we have to mention that because the name of the village is so quaint. This village in Ramanathapuram district has the best looking horses for the village sentinels Ayyanar and Karuppusamy Murughesh says..Murugesh himself was happy managing sheep and helping his family. He then moved to Kerala to help his brother in his business.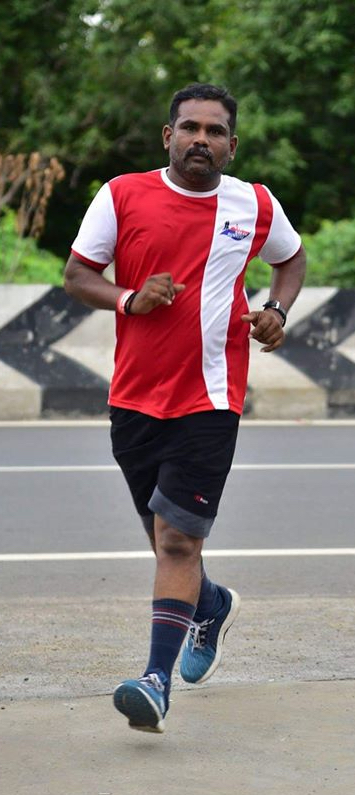 After some tough years, he was married in the year 2001. He moved to Chennai in 2002 and started small – dealing with steel scrap. Soon he expanded and started dealing with fabricated steel. 
During this time, Murugesh always admired his elder brother, who despite a tough life with his business managed to get his exercise too. And when Murughesh's father passed away due to a cardiac arrest and diabetes, he knew he had to improve his attention to health. Those were the times when Jayachandrapuram in Chennai where he lived was slowly getting better apartment complexes and better roads. Soon came some runners and he was also venturing out to walk and run. He met Mr. Tamilvel, who invited him to join the VMR chapter. There on it was a different world for Murugesh. He heartily participated in the 2018 DRHM free training and attempted the 10K distance. He finished with a very impressive timing of 1.06 for his first attempt. If you ask him now – he is full of praise for his running mates. The morning runs are the highlight of his days and he states with no doubt in his mind that the days he runs, he is full of energy throughout.
Murughesh will talk to you and explain as to how the group keeps him motivated. When he explains as to how he always runs with Mr. Tamilvel, he is actually telling him how it is wonderful to have a partner to be fit with. He explains as to how they run all the way to Muttukkadu, which is their practice run for the 21K distance. He has since done many events and his son is so proud of his father and treasures the medals he has won. Murughesh has ensured that his son too is active in sports and plays his foot ball, while he is waiting for his daughter to finish his 10+2 exams and start running.
Ask his team mates, and they are full of praise for Murughesh. They feel, he will be soon running a sub 60 minute 10 K and has a lot of potential. While he is motivated by all his running mates, they in turn are full of appreciation of his dedication and grit.
Wish all the very best to Murughesh and let us see many more running achievements from him.

-Rajagopal Sastry
Dream Runners