Runner of the fortnight - Kumar Subburayan, Medavakkam Dreamers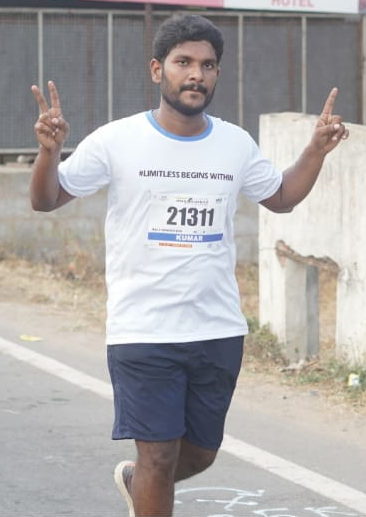 Ever wondered why those sub-Saharan Africans are doing so good in 'running'?
Well, many of them have credited to their lifestyle. Many observers believe & credit dominance in distance races because they spend their childhood "training" by running/walking to school and working in the fields.
Our 'runner of the fortnight' Kumar Subburayan, hailing from a remote village in Villupuram district had a similar lifestyle during his childhood. Every day he walked 5KM for schooling and also worked in the farm to support his family. Little did he realise that such experience would come in handy when he started running, later in his life.
When he shifted to Chennai for work, he grabbed the structured training provided by Dream Runners in the run up to DRHM2017. Like fish taking to water, he adapted to running quickly. He joined Medavakkam Dreamers and started training regularly.
Starting with DRHM2017, he has been participating in all subsequent events too. When quizzed about how his running group and training helped him, he said "fun loving Medavakkam Dreamers and the structured training really helped me improve my timing and understand the nuances of running".
Being a regular runner of major Chennai events, he says that he is the happiest when he is running. It helps him to have an enthusiastic start to the day.
He has clocked a personal best timing of 2:25 and 0:57 for Half Marathon and 10K respectively. Though he believes that he can do much better, he prefers to take it easy.
He believes that running with his team is more fulfilling than timed events. Like most runners, he too has ticked off the 10 X 10 run, happily.
He believes that having a schedule & following it diligently and staying committed to the goals will certainly help a runner make progress.
He never misses his early morning run as it energises him and doubles as a stress-buster as he takes on his busy day. In the bustling city life, his work is mostly sedentary. Hence, running in the morning has become non-negotiable to him.
Though he considers himself as a beginner in running, when pressed to know what he would have to say to those who start now, he said "Run with Happy mind & a smiling face. Don't start with long distance. Train & increase the distance gradually."
Wishing Kumar many more successes in his running journey and hoping that inspires more people to take up running to stay fit.
SAthya NArayanan
Dream Runners.
#LetUsRunSoTheyCanWalk #RunClean #RunResponsible #SheShouldRun