How to taper before a race…. without going crazy!!!!!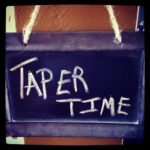 You stay up late cramming for exams (reminded me of the yesteryears at school). Big presentation or performance? Be honest—you've rehearsed over and over, sometimes until the second you take the podium or stage. But when it comes to preparing for a marathon or other race, the best strategy is exactly the opposite before the D-day. Yes, Tapering perhaps is the most overrated word in the runner's dictionary as the event day approaches when the butterflies in the stomach start to flutter. Whether a novice, amateur or veteran, the runners' mind controls a large part of one's running experience, from motivation to pacing strategy to handling pre-race jitters and pain. Your brain is in control of everything you feel or do: from working your muscles, to controlling your thoughts and emotions. Sounds familiar? These are the tapering weeks one is subjected to when strategies and last-minute nuances are worked upon.
What exactly is tapering anyway?
Tapering is basically a steady decrease in total training volume–mostly mileage–in the last few weeks before your goal race. This allows the body (and mind) to rest and recover before race day.
I'm not a pro, do I really need to taper?
Yes. Regardless of how fast you are or how long you've been training, tapering for a marathon is always a good idea and can help any runner improve their performance. It's a way for your body to recover from a long, hard season of training without losing fitness. If you've accumulated some pesky aches and pains from grinding out all those K's, the taper is just what you'll need to run a strong goal race.
How long is a proper taper?
Unfortunately, the taper is not a one-size-fits-all concept. When tapering for a marathon, generally, the shortest taper should be no less than 7-10 days.Most runners opt for about a two-week taper where they gradually decrease their mileage leading up to race day. So, should I still do workouts? Yes, Tapering is mostly a reduction in training mileage, but not intensity. If you typically do a mid-week workout, still do something–such as a tempo or speed work–in week one of your taper. The only change you should make is reducing the overall duration and top-end intensity of that run. Consider running one or two fewer intervals or cut-back the tempo by 20 per cent.
I feel like I'm losing fitness! Is this true?
Welcome to the most difficult phase of marathon training: "taper madness." In just a couple of days, you'll go from feeling incredible and invincible to being convinced you've lost the ability to run. But not to worry, it's all in your head. Studies have shown that a proper taper will actually improve your race performance (by about five per cent), versus trying to add more training in those crucial last couple of weeks. Think of the entire taper as the hardest workout you'll do all season. Stay focused and stick to your plan.
How do I combat taper madness?
The biggest challenge during the taper is staying positive. As race day approaches, doubt will inevitably creep in. A great way to counter the fear of failing when the gun goes off is to actually practice being positive. During your easy runs in the last couple of weeks, visualize the finish line of your race, with you crossing the finish line feeling strong and happy. If you've got a time goal in mind, picture the clock with that number appearing as you finish. Also, develop a mantra. Something you can say to yourself when the going gets tough that will keep you focused and put the race into greater context. After all, you are choosing to do this and it's supposed to be 
What am I going to do with all this spare time?
Marathon training can be all-consuming. Many runners find it oddly challenging to back off the mileage and fill the time with, well, the rest of life. See tapering as a time to celebrate a season of successful training. Stick to your tapering plan and don't run too hard or too long, no matter how good it feels at the time. Also, now is not the time to try new things. It's tempting to try to shoe-horn in that core work that you've been neglecting all season long, or tackle some cross-training. Taking on new activities will cause fatigue to new muscle groups and require added recovery. Now is the time to relax and enjoy the rest. There will be plenty of heavy lifting to do come race day.
What should I eat to Boost Performance?
Eat a diet rich in complex carbohydrates (whole-grain bread, pasta, and cereals), and drink plenty of fluids. Again, eat right is the basis mantra here as each one has a different body type. What appeals to me may not appeal to you. In the week before your marathon, about 65 to 70 percent of your calories should come from carbs. Avoid alcoholic beverages since they have a dehydrating effect and can also interfere with your sleep.
Should I run the day before the marathon?
Some think it's crazy to lace up the day before the race, while others find that it calms the nerves to do a few shake-out K's on the morning before marathon day. In truth, a 20-minute run 24 hours before a marathon probably isn't going to hurt, but it's also not going to help (physically that is). Some will say that it's better to be safe than sorry and to stay off your feet, carb load like mad and conserve your energy for the main event. Others need to get out and do something, anything. It might be wise to make that a 20-minute walk, but if you must run, go for it.
Remember that less is more. You'll probably feel tempted to run longer and harder during this time, but try to resist the urge. Running less reduces your risk of injury, gives you time to rest and recover, and allows your muscles to store carbohydrates in preparation for the big race. Don't be surprised if you feel some new aches and pains during the tapering period. It's a normal part of the process, as your body repairs itself from months of training. After all, there's no "one size fits all" option when it comes to tapering madness. Its all about being yourself, taking pride in the training process underwent, conserving your energy and stationing our minds to the joys of life. Happy running!!!
Krishnakumar,
Marina dreamers.
#LetUsRunSoTheyCanWalk #RunClean #RunResponsible #SheShouldRun