Thinai Sambar Saadham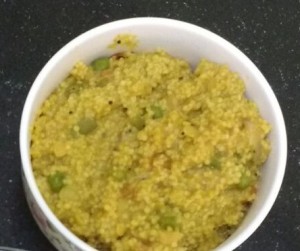 Ingredients:
1 cup cooked foxtail millet(thinai)
1 cup cooked toor dal
Any mixture of vegetables- chopped 1 cup
Tamarind water- small lemon sized amount of tamarind dissolved in 1 cup water
Turmeric powder
Ghee, Fenugreek and mustard seeds for seasoning
Sambar powder- 2 tablespoons
Salt to taste
Method:
In a pan, add one teaspoon of ghee. After the ghee heats up, add fenugreek and mustard seeds.
Add the vegetables and stir.
After a few minutes, add salt, sambar powder and a pinch of turmeric powder.
Add the tamarind water and let the vegetables cook. Then add cooked toor dal.
Let the mixture boil for a while. Then, add the cooked thinai.
Add 2 teaspoons of ghee and stir thoroughly.
Serve hot with a side dish of your choice.
Recipe Courtesy: Meenakshi Sankaran