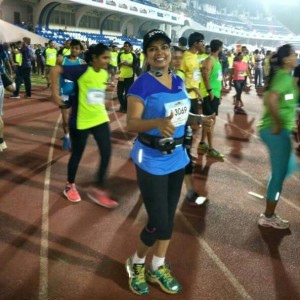 We wake up to the sound of the alarm
The roads are dark and the city very calm.
Slowly we assemble in a place
To be trained for an upcoming race.
Men and women, age no bar
As we train, everyone is a star
In-between workouts, we have lots of fun
Always motivation and encouragement, but, jealousy there is none.
Some days are on the hills,
Sometimes doing tougher drills.
And then comes the circuit training
Nothing stops us even if it is raining.
The runs in AU is a bit rough
We go through the regime as we are tough
Breaking and hydrating once in a while
And we walk back for more, in style.
The long run happens every Sunday
Reaching far off places starting at the Bay
For chilling, Saravana Coffee is our spot
Talks and teasing happens here a whole lot.
Building our clan towards a healthy life style
Finding hundreds of running friends in every mile
The medals and laurels the individuals win
Is a feather on the cap for everyone as a team.
Each and everyone here are considered Winners
And we are proud to say
We are the DREAM RUNNERS!