SPINACH BAKED MILLET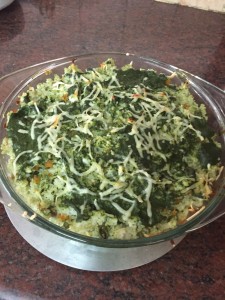 A wholesome meal by itself … can be served as a post marathon lunch!
Ingredients:
Millet  1 1/2 cup (Foxtail millet is preferable)
Spinach  2 bunch
Garlic   8 flakes
Jeera powder  2 tsp
Cheese cubes  3 grated
Carrot  1 finely cut
French beans 5-6 finely cut
Green chillies  4 (paste)
Spring onions 3-4 stalk finely cut
Vegetable Stock – 1/2 cup (for Non-Veg option, use Chicken Stock)
Non-vegetarian variation:
Chicken boiled and shredded 1/2 cup optional
Method:
Blanch the spinach and puree it. Take butter in a vessel, add the garlic paste and jeera powder. Fry for sometime and then add the spinach puree and chilli paste.
Add 1 grated cheese to the puree. Boil the millet semi cooked. To this, add the sautéed veggies, spring onions,shredded chicken and little spinach puree.
Mix it well. Transfer the millet mix to a greased baking dish. Spread the remaining puree. Pour the chicken or veg stock.
Sprinkle the grated cheese on top. Bake it for 20 minutes. Serve it hot.
Recipe Courtesy: Samina Lal