Running….Not In My Dreams!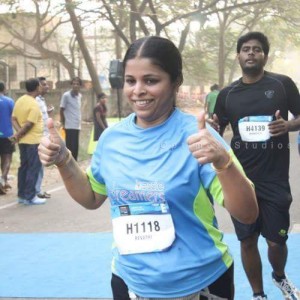 I was a regular with my evening brisk walks with my friend and was very proud of my daily feat which comprised of a distance of 6kms initially (early years) and which gradually reduces to 4 Kms by 2012. We burnt more calories talking through the distance. With my son's board exams round the corner, all walking sessions were suspended as he had to be carted to various classes. I was a alive example of inverse proportions, no walk more weight. For a person who was never a sports person, running was a distant call. Whenever I saw people running in groups on Besant Avenue I wondered why would anyone do something as monotonous and boring as running!
April 5th 2015 was the day that turned things around. Radha Rangarajan who tirelessly kept prodding me to take up running, succeeded in baiting me into it when I met her that
Sunday
morning at Adyar bridge. With no room for doubt or procrastination I landed up with the Bessie Dreamers for training. The first day of training was killing, the first 50 meters being the longest and toughest distance I ever ran. I wondered if I had made the wrong decision. With every passing day my running distance increased, so did my confidence. In July 2015 I did my first 10k at DRHM 2015!
During my 4 months of training, I would diligently wake up at
4 am
to be able to mark my attendance at 4.55 at training. This was an excellent training ground for developing commitment and perseverance. By the time I ran DRHM 2015 I had shed 6 kgs and a few inches too. I was thrilled.
Runners are a generous lot. They are always very generous with their encouragement. I have felt very motivated when other runners would run past me with a smile, nod or a word of appreciation. When you receives such goodies regularly, you are left with no choice but to take on the job of motivating your co-runners. Running definitely helps spread smiles around.
All members had a common goal – to run! This helped in developing a sense of camaraderie , a sense of belonging within the group across all age groups. The passion and commitment with which the group trains every morning is contagious and a motivating to keep up the fire burning. I will need no other motivation other than being part of this vibrant group to sustain my new found interest.
My vote of thanks to Radha Rangarajan for inducting me into running, Viji Swaminathan for seeing me through my first 10K, Dr.Anand and Parthasarathi for being amazing mentors during my training and all members of Dream Runners and Bessie Dreamers for their words of encouragement and being a source of strength.
With a few long runs under my belt and my mind set on SCMM 2017, I will continue my journey puffing and panting through my daily training as long as my body cooperates enjoying the breeze on my face and and reaping the benefits of all the sweating!!!