Jayendra Soni, Marina Runnerz – The 'Gold'en Runner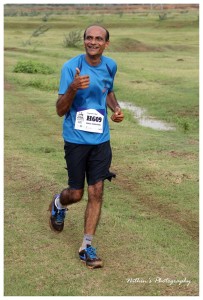 I am a true blue Chennaite; always loved this beautiful city.  However, right since the time I started my running journey in the city, I love it even more.  I can see the surprised expression on your face if you are not a runner in Chennai. Did you ask why?  Why Chennai of all places?  And that too for running?
The reasons are many. I will cite a few here.
To begin with, Chennai has some of the best running locations.  Foremost being the Marina beachfront. You cannot ask for a better and more beautiful running place than this.  From RBI to Bessie and the whole stretch of ECR, the place is full of enthusiastic runners every morning (and some in the evening too!).  The other locations are OMR, Boat club, Anna Nagar, Velachery … the list is endless.   However, the one hidden treasure is ICF and its surroundings located between Aynavaram and Perambur.  Once you run here, you will simply fall in love with this place.
The other exotic locations are Adyar river trail, Cholavaram trail run, Buckingham canal trail, St. Thomas Mount hills and Nanmangalam forest range. In addition, if you still need more locations, select from various parks and corporation grounds with jogging and running tracks. 
My second reason is the people of Chennai.  They may not cheer you like Mumbai citizens but they silently appreciate your efforts to keep fit.  They are friendly and helpful.  And if someone is not that, he will at least be non-intrusive. 
Reason number three is a lovely running community.  It is perfectly cosmopolitan to the core.  No religious discriminations, no caste considerations, no linguistic boundaries, no gender discriminations and no age limits.  If you want to run, you should have a pair of strong legs and even if your legs are not strong enough, various running groups will train them to become strong. Once you are part of any of these groups, you will get hooked to running for life. They will share your joy and pain alike. They will guide you and advise you. In addition, they will help you run better and faster.
We have professionals, business people, IT experts, Government employees, women entrepreneurs, educationists and many more joining hands to run together.  Truly, a fascinating group of people.
Fourth is the safety point of view.  Who can deny that Namma Chennai is one of the safest cities to run in India?  We have mobile police patrols with gleaming red and blue lights; we have well lit roads and as already discussed the good-natured people of Chennai.
If these reasons are not enough to pull you out of your bed, the fifth reason is various running groups and their chapters all around the city.  Almost every location has a dedicated running group in its surrounding which will train, mentor and motivate you to run.
If you are worried about your early morning requirement of hydration, especially if you are the kind of person who does not want to carry any burden of water bottles or hydration belt, here is reason number six. We have small petty teashops in every street corner which stock water bottles and water packets for your convenience and who open their shops much before we start our warm up stretches.
Finally, reason number seven. Some of the most enjoyable running events are conducted in Chennai.   Starting with DRHM, which is considered amongst the ten best half marathon events in India, The Wipro Chennai Marathon, Dawn to Dusk, Dusk to Dawn, Cool Runners Half Marathon and Chennai trail marathon.
One reason people always cite against running in Chennai is it's notorious weather.  However, I totally disagree with this.  To start with, we have four months of pure bliss for runners: November to February, when the weather is just perfect for running.  The preceding four months from July to October are not bad either because it is rainy season and it hardly rains for about 20 days out of those 120 days in Chennai.  That leaves a period from March to June, which indeed are hot and humid but early mornings between 5.00 am and 7.00 am are still bearable.   So for me running can be around the year activity in Chennai. No reason to hang up your running boots here!
On the flip side I consider only two reasons unfriendly for a runner in Chennai: Street dogs and garbage. But aren't these problems common to every city or town in India? So dear reader, find a location where you avoid these and voila… you are ready to run in Chennai.
So friends, no more excuses and no more denial.  Get up and get going.  Someone somewhere is waiting to run with you on Chennai streets. Join the fun and join the revolution. Run … it's Fun!