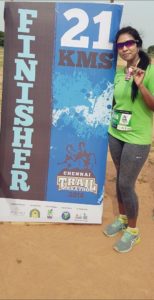 Dr Deepashree – Medavakkam Dreamers
Its  always difficult when someone asks to write up about our own running story. Having deferred for a day, I think the time is ripe to write now after my LSD ( Long slow distance)  run this morning with my mood all uplifted and all set to put in my thoughts
I am a doctor  ( Interventional Radiologist)  by profession demanding long hours of stay at hospital . I got married at a very young age  after which I had been to UK to finish my higher education . That only meant juggling my career/ job, higher education and my little boy at that time 13 years ago. I was so engrossed in building my career that I hardly focussed on fitness. My only fitness was running around with my child and travelling miles and miles everyday. Having spent 12 years in United kingdom, we decided to move back to India 4 years ago in 2012 and first 3 years after moving to India was more about us settling in our new jobs with no focus driven towards fitness. Any job would involve little bit of stress and for a type A personality like me, I was more stressed than anyone at work and to add on to this, I was given the responsibility to be the head of the department at the hospital where I was working. This has certainly added more stress and that was reflected in my attitude and behaviour towards people. I started losing some of my good friends and this also had its toll on my relationship with my husband and child. I decided at that point that I needed to do something about it. One option was to give up my responsibility and job which is possibly not the right option, hence resorted to yoga and meditation which had helped to some extent, however needed something more.
I have never been a sports person or I would rather say that I didn't know about my own potential until we as family along with our friends decided to go to Kailash Mansarovar and then to Hampta Pass, a Himalayan range in May 2014 and July 2015 respectively. I surprised  myself with my trekking skills and I turned out to be one of the fittest  amongst the group that I travelled with.  Then I  came across a whats app ad in our local community about women's fitness group in August 2015. Decided to go for it and I was surprised to find myself happy and possibly fittest amongst my peers. Thanks to the motivation by my coach Sangeetha Mohan who is a gold medallist at high jump in south Asian games 2004, she has certainly triggered the spark in me and I religiously attended the weekend sessions at our community which involved cardio, agility , strengthening outdoor workouts . There was a local competition where in I was tested for my fitness and have been called as cardio guru after I came first amongst us. This has added more confidence in me.
Having developed the confidence, I decided to give a shot at Wipro Marathon 2015 which was further pushed by my colleague at work who is none other than Dr Gomathy, a fitness freak who has finished Full marathon recently.  I never ran in my life and decided to go for it. I managed to finish 10 km in 1 hr 44 minutes.  I felt that I needed more training to run a marathon and it so happened that I had come across a forwarded post on whats app group in April 2016 about training sessions at Medavakkam from dream runners for DRHM 2016.  For some reason I thought lemme try registering as the timings from 5 am to 6 am were suitable for me. I asked my buddy Dr Deepti Sachan if she wanted to join me for training sessions. She said Yes and there is no looking back since then.  Myself and Deepti drove to the training venue at Medavakkam only to see a gang of unknown men doing stretches at 5am. My first instinct was 'Oh My God', no women here !!! and felt uncomfortable about getting trained. But thanks to all the men in the group and especially Govindarajan sir, an elite runner who made us feel so comfortable and ran with us for 2 km on Day 1 and appreciating  us for our 2 km run. I still remember the tips that he shared with us in those 2 km and that was the start of my running career. We made sure that we were regular to all the training sessions and felt more and more comfortable with our group members with constant motivation and inspiration from fellow runners.  I registered for DRHM 2016 for a 10 km run.  Just a month before the event, I was motivated by Ali Sir to give a shot at 21km. He asked me to run with him for 16 Km at Bessie. I decided to join him with other runners and he infused the confidence in me to run 21 km.  After which I participated in 21k at Chennai trail marathon and recent Wipro 2016 with my personal bests in each and every run that I do. Quite a few 10 km chapter runs in between these with personal bests in each run. My personal best in 10 km was 64 minutes at Teenduruns 2016 and I was elated to see the improvement from 104 minutes to 64 minutes in mere 11 months.
Having shared my story, what has running taught me and how did it transform my life…..…..
Many things actually…..
It has taught me that nothing is impossible, with dedication and hard work, we can achieve greater heights.

It has helped me overcome stress and anxiety in day to day life

It has taught me that we are so little in this vast universe and so are the problems that we face in life.

It has helped me to let go of things that I have been clinging to , yes I had given up many unimportant things that I have been adherent to , only to find more time and focus on things that are important in life

It helped me to rekindle the relationship at home

It has given me happiness and confidence to take on challenges

It has helped me to build patience and perseverance

It has helped me to find new friends, especially with common interest and that makes it more fun.

It has taught me that we are meant to compete with ourselves and not with others

It has taught me self discipline.

It helps me to control my anger and let go of my ego and the list is endless……….
I am sure most people who are into running speak most of the things that I shared above and my first thought when I heard similar things prior to my passion for running was how can running do these things and believe me its hard to believe something unless you experiment on it. We need to try it to believe it or refute it.
It feels good when we know that we are inspiring people at work , home etc and it certainly boosts one's morale and I really feel proud to be one amongst the inspiring women in local community . Thanks to medavakkam dreamers for what I am today !!!
That's me Deepa,  hoping to learn more life skills and  inspire many more…..
Cheerio