Raji Shankar – Marina Dreamers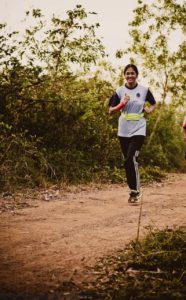 "You are never too old to set another goal or to dream a new dream said C.S.LEWIS"
I was surprised at what I dreamt of being at the age of 52.
I never expected that what started as accompanying my husband to the early morning walk would become an obsession.
A 15 minutes short run everyday, encouraged me to sign up for the Wipro Marathon 2015 .
It was then I came to know that several groups across the city met every morning trained together and ran with all their heart .
Luck favoured me through a friend who introduced me to DR Marina group .
I started looking forward to the Tuesday and Saturday session where our coach Bharath teaches us simple exercise and effective techniques, then I signed up for almost all the runs that I came across.
Running not only keeps me physically fit but also helps in my mental fitness.
It is not just the calories that burn when I run but also all the stress and hard feelings .
I feel my inner self at peace after every run and I see myself being a better person
So don't ask me why I run, ask yourself why you don't.