Nutri Nutty Bar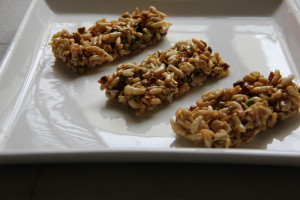 A healthy home-made snack to be eaten on the go! A favourite with runners!
Ingredients:
Chopped Walnuts
Chopped Almonds
Puffed Rice
Honey
Jaggery
Method:
Roast almonds and walnuts.
Roast puffed rice slightly.
In a pan, heat jaggery and when it melts, add honey.
Immediately, add the roasted ingredients.
Then transfer it to a greased flat rectangular pan.
Allow it to set at room temperature.
Once set, cut in the shape of bars
Variations:
Replace Puffed rice with Oats
Addition of raisins along with Almonds, Walnuts
Addition of Semi-sweet chocolate chips to make it kids-friendly
Recipe Courtesy: Zainab Akil