Dr. S KANDASWAMY – AUDI RUNNERS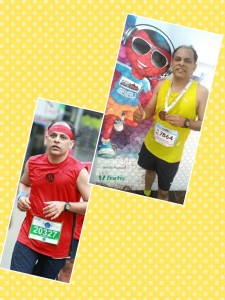 Glad to be part of Dream runners and thanks for creating a new passion- running in my golden jubilee year. I was a hockey player during my school and college days. Used to participate in many track events representing my college.
Those memory cells in my body rejuvenated again after my tryst with running. I couldn't spend time for my fitness due to my Professional commitments. I tried Gym work out for four years but couldn't continue it regularly because of its repetitiveness. Dream Runners gave me a welcome change in my fitness routine and I entered their training at Anna university.
My consistency and the constant boost by Mr.Sankaran, Mr.Zuzer, Mrs.Radha and coach Anandaselvan made me complete my maiden DRHM 2015 with a timing of 2:50 hrs. DRHM turned out to be an addiction for me towards running .I wonder how I could get up at 4 am without an alarm and lace up for my run .The passion continued and I made my schedule and ran in groups . It motivated me to participate in the Bengaluru half marathon and finish with my previous timings. The pace was set, thanks to Garmin and my AUDI (Anna University Dream Inspiring Runners) group members. Special thanks to my personal trainer Mr.Ganeshram who literally paced me from walking to running, in fact for excellent finishing sprints.
Achievements apart, running has changed my life and felt I was growing young at fifty. New targets, new friends, running outside Chennai –Bengaluru, it was a fulfilling experience. Running makes one fit is a known truth. There are other unknown facts too .It helps one to be in control of one's own mind and body and is more effective than meditation. The adrenaline surge produced by running makes routine life smooth and easy. Attitude changes a lot thanks to endorphins .Running groups motivate , and helps to break monotony. My main concern as doctor is injury, which I too suffered after first marathon. My sincere advice to beginners is, that they have a medical check- up before starting any running program. I have one regularly every year, and before every marathon. It is important to give adequate rest in case of injury and not to overdo it. Nutrition and hydration is the next main concern once you start running regularly . A balanced diet and good hydration is a must after each run. Bare foot running is a recent trend that I have noticed. I personally feel that it's not advisable. Good fitting shoes makes one run comfortably.
Do not follow schedules from various running websites ,as it won't suit your body. Start slowly, find your own rhythm and gradually increase your distance and speed. Encourage runs with your family and groups. Be a role model for the Gen-next. Look 20, Feel 16. Wish you all many more Happy miles to go/run!