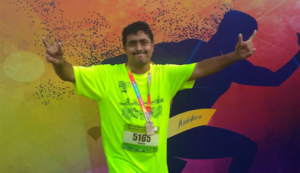 Pranesh – Medavakkam Dreamers
Being a shy, happy alone, introvert person, I resisted writing about myself for the past one month but finally thought of putting some words to my thoughts.
Rewind: In 2013 December, two of my college mates posted in FB about their half marathon and full marathon attempt at #twcm. On the race day, I was up and reached the start point to cheer them. FM started first and the HM started around 5 AM and I thought of strolling till they came back. Out of impulse, I drove along the HM route to find my friend. I missed him at U-turn point. Somewhere around 3/4th of the route I found him and took a photo of him. And before he reached the finish point, I parked somewhere and raced to the finish point for taking a photo of him. Then we waited for the other FM fellow to come out of the IIT campus and out he came after 5 hours. The wait was like eternity. You start thinking, how can these guys be on the road for 5 long dash hours……those two guys were the first motivators who suggested to register for 10k next year but I was not brave enough to do it in '14. After great dilemma, and out of crude guts, I registered for 10k in #twcm 2015 which actually happened in January 2016.
Play:
As expected, I kind of walked the full course of 10000 m in TWCM 2015(16). With lot of motivation from friends and great enthu I ran 10K in Cool Runners event in March. The timing was even miserable. That's when you realize that completion with lot of pains is not fun and it has lot of negative side effects. You have to answer uncomfortable questions from everyone for two-three weeks about why you are limping. So, I gave rest to running.
In April by happenstance, I overheard in my office corridor that a new team is formed for running in Medavakkam. In few minutes, I was added in the WhatsApp group. The next week I found out the park and reached there at 5 AM. All faces were unknown. The very first day I came to know about something called pre and post stretches. Coach told to run 2k and I started running. After 50 meters, you start panting and gasping for breath. I heard Guru Govind's (stranger for me) voice of 'Awesome pa, awesome'…'keep moving'…'no walking'…'nikkama odanum'….'awesome pa awesome'….such a great motivator in the back for the full length. (Ok, I will run only today atleast for him)…at 1k he stopped and made us do the stretching again. Such a selfless character he is. So, I came back in one piece after 2k. With lot of pains, I didn't want to go back again. Donno why, but I went there almost for all training days in the next three months as part of DRHM 2016 and my endurance and running life was improving. Below list of timings in various events is the real proof for the improvement.
Chronology of my run timings in 2016 and early 2017:
TWCM 16 (15):   10k-1:34:46
CRHM 16:              10k-1:42:00
DRHM 16:             10k-1:18:21 (24 minutes improvement by structured training of DRHM team)
CTM 16:                  HM-3:20:00 (first HM and that too in trail)
Adidas run:           10k-1:07:25
Teenduruns:        10k-1:04:29
TWCM 17 (16):   HM-2:29:47 (That's an improvement of 50 minutes in 4 months)
Auroville 2017: HM-2:32:05 (First outstation event. Wonderful trail)
MarinaRun 17:   HM-2:18:29 (Improvement of 11 minutes in 6 weeks)
And the last 5 days of 2016, I did my first 5×5…That's so easy when someone says but so difficult to run 5 km for 5 continuous days
I got lot of new friends in #MedavakkamDreamers and #Dreamrunners family. The side kick is: I made Priya also to run with me in DRHM-16 and she enjoys it a lot (but never accepts it). I have to bring my family into the running family. That is in Fast-forward.
One more side effect is suddenly I became very active in FB. My FB post on CTM 2016 is the most interesting one I have ever written. Never thought I can write like that. From time-to-time, I do long posts on our team events which is also quite interesting and intriguing to many.
Now, there is a long gap of 4 months for the next major event which is our own DRHM. Coach has assured to make our life miserable with off-season training and I happily and painfully look forward to that.
(p.s: If you wonder why I have described one full year as present phase, then read this paragraph, or else please skip it. In any sport, 1 year is very short. Especially in running, you evolve from early morning 5 AM waker (with 5 alarms snoozed for infinite times) and then to weekly once 2k runner and then weekly twice 3k runner and then to weekly 3 runs + Sunday LSD. If you run 3 LSD's every month for atleast 6 months, then you are into serious running. (Now, you are eligible to write about running like meJ) In between, you start registering for events and try to complete every time without injury and again do recovery to avoid uncomfortable questions from everyone around you. If you take rest for 1 month, the effort put for one full year is gone. So for any sportsperson, one year is too short.)
Fast forward: Nobody can predict future but you can wish. At some point in future, I wish:
To somehow figure out why I am running for
Do something positive out of running and during running!
Run a sub 1 hour 10 k
Run a sub 2 hour HM
Train for FM and complete it with no injuries (Maybe in 2022!!)
Body weight like in my college days (I don't think that's possible. Still it's only a wish)
Balance our work-family-kid life and bring my family into running (any sport is ok)
Make more friends
End note: As you struggle to run on the road dodging the traffic, I realized that the road is common for cow, goat, buffalo, few snakes, jaywalker, jogger, runner, road side romeo, wrong side heroes and heroines and rest of all motorized and non-motorized transport. These created a better calm in me and accept the traffic and I started driving without cursing (myself & others).
When you see someone running in the road, a simple 'hi' will motivate them to run again tomorrow in the same route to get the extra hi from you again…Hi and Bye from Pranesh (a novice runner!)