Herbed Chicken, Broccoli & Millet Casserole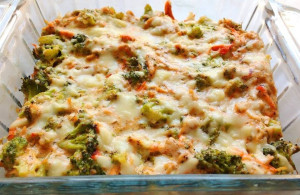 A wholesome, comforting and hearty meal for family and friends!
Ingredients:
Broccoli
Shredded Chicken / Mushrooms (for Veg)
Millet cooked in Chicken/Veg Stock
Cheese
Mayonnaise
Cream
Salt
Pepper (White pepper preferable)
Thyme, Basil
Chopped Garlic
Method:
1. Boil salted water and cook broccoli florets for few minutes.
2. Heat butter, add garlic and saute for sometime. Add broccoli, pepper and saute for few minutes.
3. Mix chicken with Mayo, cream, little cheese, thyme, Basil, salt and pepper and broccoli.
4. In a baking pan, layer with Millet (cooked in chicken stock) and then with chicken broccoli mix.
5. Top it with cheese.
6. Bake for 15-20 minutes and serve hot.
Note: Millet (Varagu/Thinai) is used as it is gluten-free and a healthier option. Rice can be used if Millet is not available.
Recipe Courtesy: Zainab Akil