Dates and Nuts Roll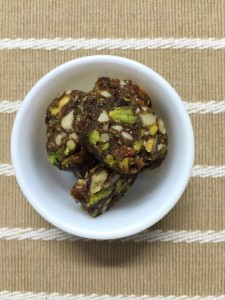 A simple, easy to make and very healthy sweet with all the nutritious ingredients. A pre-work out snack or post meal sweet – consume it any way!
Ingredients
Equal quantity of dates, raisins, chopped nuts (Pista, Almond & Walnut).
Ghee
Take a spoonful of ghee & roast the nuts. Keep it aside to cool down.
Take another spoon of ghee and roast dates and raisins, till they became soft. Cool it & grind them in a grinder.
Now bind the nuts with the dates paste, till it becomes a dough. Roll the dough into cylindrical shape & keep it in the fridge for an hour. Take it out & slice them.
Recipe Courtesy: Reena Sathyan