Apple and Cinnamon Oat Pancakes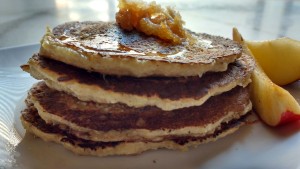 Pancakes with a healthy twist – Oats and the doctor-friendly "Apple" Pancakes to begin your day with …!
Ingredients:
1 Apple – Grated
1/2 cup of Oats
1 Egg (optional)
Honey
Salt
2 tbsp Butter
Cinnamon Powder
Milk (as per the smoothness of the batter)
Method:
Blend Oats, egg, honey, salt, butter, cinnamon powder, milk to form a smooth batter of pancake consistency.
Add grated apple to the batter and mix well.
Heat a non-stick pan. Make pancakes.
Serve hot with honey.
Recipe Courtesy: Zainab Akil