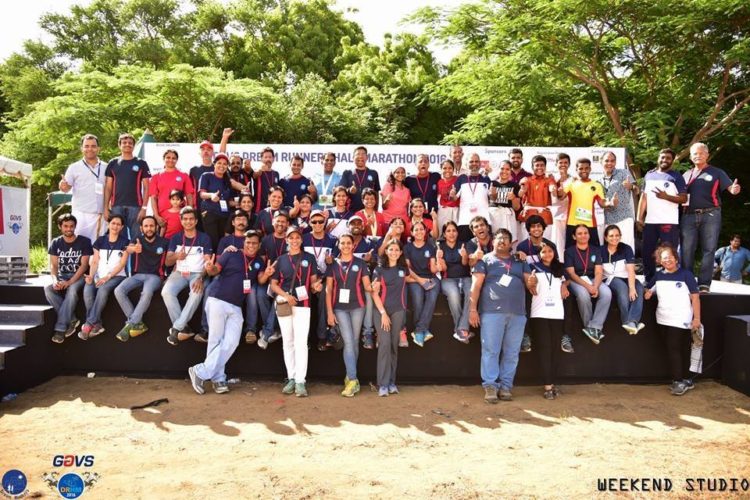 What would you call a bunch of rookie runners highly motivated to run? What would you call them if they started infecting their families and friends with the passion to run? What would you call them when their motivation pushed them to compete with professionals in running? What would you call this bunch when they share their laughter and joy with families, and spread the positive energy? Well, this bunch is called 'DREAM RUNNERS'!
BEGINNINGS
In 2008 a few mates, went beyond the walls of the gym and hit the tar with their running shoes to run a 5km spell. What started has an effort to break the monotony proved to be very refreshing, and the high that was achieved was very addictive! It soon ensured treadmill citizens to become road converts! That was the birth of 'Dream Runners'.
Soon, many joined the group. Being highly motivated, they upped the beam to the next level moving from 5km run to Ultra marathons. And every time the group touched the finishing line, it was time to begin another one. Dream Runners have become one among the major running groups across country.
TODAY
Today, many of the founder members of Dream Runners are recognizable faces on the running circuit all over India. With many podium finishes to their credit,  they are regularly called upon to be pacers and mentors at various running events. The participation contingent from Dream Runners at every event of note is also on the rise.
DRHM
In 2012, just on a lark, the Dream Runners 'dreamt' up about having a running event of our own. Having experienced the joys of running and wanting to spread the cause of heath, wellness and lifestyle through this sport, resulted in the passionately executed first edition. Since then, through the success subsequent editions, it has become a "Must-Run" annual event for runners across country. DRHM is the season-opener for the Indian Marathon Calendar.
SOCIAL CONTRIBUTION
The DRHM through it's growing popularity, has also become an ideal platform for taking up and working for social causes and making a difference to society, albeit, in a small way. Over the past years, it has associated itself with worthy causes like Organ Donation, deployment of Prosthetic lower limbs etc.
There is also continued participation by members for provision of funds, facilities and volunteering to needy educational institutions. In 2015, there was also active participation in rescue and relief work following the deluge in Chennai.
CHAPTERS
In taking forward the objective of health and fitness, the Dream Runners organize each year, free training programs, to initiate and guide people to take up running. The huge success of these programs have resulted in formation of various Dream Runner chapters in the city- OMR Dreamers, Bessie Dreamers, Boat Club Dreamers, Anna Nagar Dreamers, Run TNagarRun, Coastal Dreamers, Anna University Inspiring Dream Inspiring Runners are some of the noteworthy ones.