Krishnamurthy Gurumurthy, T Nagar Dreamers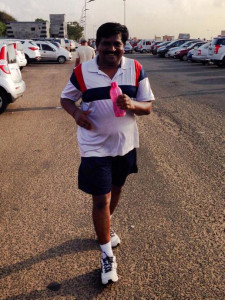 My Sunday began with a 10k RUN and on reaching home, Lalitha told me with a smile -GOOD, but you better sleep now. I tried sleeping but was rolling over the bed with thoughts that went 43 days back.  I saw a post from Parthasarathy Thirumalai on Dream Runners group doing sessions across Chennai and something flashed in my mind. I went ahead and registered. On the prescribed day, a call at 4.30 am – "Palanivel Kumar from Dream Runners here – Are you coming today?" I lied to him – "I AM TRAVELLING". He hung up and I slept. Next day same Palani called and convinced me over phone to come. I went with reluctance. They made me run after initial warm-up exercises, I could hardly run. Rajeev an unknown angel ran with me and kept pushing me to reach every possible mark on the road. Next session met another angel Prashant who ran with me. I kept Partha posted on developments.
It was a Saturday, we had finished our session and Partha came all the way from Besant Nagar to T Nagar after his work out just to ensure my comfort. Thus began the journey with new friends called DREAM RUNNERS. Every day was fun – I started looking forward to being with them. A WhatsApp group was set up and every day wishes, applauds, happiness exchanges, chiding, tips, pictures… it goes on nonstop.
One day on my way back home, I remembered accompanying my boys for their 10k event and with lot of pride told them my running experience .My boys laughed , teased me, humiliated me – I felt small, but it's ok they are my boys. I know in my heart until 20 years back, cross country hill race, cross country beach race and what not. You name it, I had done it.
Even 1 week before my wedding I remember running with Gilbert and my coach Dhanraj Sir at the YMCA Nandanam. Dhanraj sir the man who can talk the filthiest words if you don't run, if your stride is wrong, your rhythm is bad. For fear of his bad words I used to run.
I remembered Dhanraj sir and casually asked the Dream Runners coach if he had heard of him. Instantly he said he had heard from people there about Dhanraj sir who would abuse if one didn't run well. (My present coach just graduated from YMCA where Dhanraj sir was the head of the chapter. He is now 72).  Anyways my legs were on the job, the alarm was set to 4.30 am and I got up to run, run, & run, though only a small distance.
Then there descended a lady for our coaching session – Viji Swaminathan. One hour of training with her and a coffee made it happen for me. The next day was Sunday and I ran my first full stretch non-stop 5kms. My dear buddies Nikhil Baid Mutha, Ashish, Rakesh Dosi, C Senthil Kumar, eagerly waiting for me to finish, it was the beginning of the team spirit, then the action continued I started running alone rest of the days and on training days went to be with the team. The next week I did another 5k event at VGP with my seniors and went gaga about the achievement like a 5th standard student.
There was renewed vigour, josh, energy…friends told me that I looked lot more energetic. Some teased –LET ME SEE HOW LONG. But I was determined I had built my own pace, me, my water bottle and environment for company I continued –of course that app on the mobile the only voice now to give company.
Last night, a WhatsApp message from Viji which said ALI BHAI doing 15×15 (15 days 15 kms everyday) people can join at 4.45 am at Marina. I messaged back asking who is this ALI. She said it is good to be there just for the spirit. I said I can be the water boy for the runners, she said either way go and see. 2 mins I messaged back, I AM GOING.
I called Partha, "MACHI you there tomorrow? YOU COMING?" "I AM COMING MACHI", he said. I said, "lets go".
4.45 marina beach Light house and Partha was there quick intro with star runner- Sridevi. She was also doing her 15×15 with Ali bhai and we began running. I continued my steady pace and the entire team vanished from my sight. I ran with a just the thought I have done 5k twice so no issues, let me return from 5k towards 10k in any case what's the big deal If I make it, I win , if I don't, it's ok – SPIDER AND ROBERT BRUCE IN THE MIND. 4 kms into the run I saw the team returning, every one motivating me. I ran the 5k point turned back and ran towards the 10k, yes the LAZY CELLS started working, why are you doing this,? Can't you walk? A pain in the hip.. one by one I overcame with a strong mind that diverted the thoughts towards the surrounding. My water bottle was empty now. I reached War Memorial and saw a row of shops, I waved to one shop for water, that man waved back and I stopped for a minute filled my bottle with mineral water I paid him. That man asked "Sir, how are you? you came and had tea when your sons were running THAT NIGHT"
(YES DAWN TO DUSK EVENT) I smiled at him told him with pride see I am also running and continued my run. I was past the 7 km when that pain starts in your calf muscle slowly just to ensure you fail.
I diverted my mind again at the ANNA memorial – white in colour & thalaivar MGR memorial next to it. Remembered that great man MGR actor & Chief minister who stood for the masses (He is so popular among the masses that even if the fan of his forgets his own parents' death day and doesn't do Shradth for them, he will never forget MGR'S death day, put a photo of him, garland it with a coconut and incense stick in the front)
By now I had crossed the 8.5 km mark, the Light house point from where I began was visible.
I continued running at the same pace, the app was announcing the distance 9.3 km now. I saw a car come towards me. Sridevi waved from inside and said "well done keep going". 9.5 kms a time when you feel like giving up, no more ideas to divert my mind for it knew I was close by why not you walk it said – NO WAY I told my self- actually I talked loudly to myself-MY PHONE RANG –Machi where are you – I said Partha 400 meters away . I ran the distance –Partha ran towards me with his mobile phone in hand clicking pictures. I reached the point. The app said 10.02 kms. I stopped, shook hand with my buddy. He said do the cool down stretch. I did whatever I remembered.
YES I MADE IT,10K non stop after 20 years. I bid good bye to Partha. Started driving home.
I TOLD MY SELF- AB DILLI DUR NAHIN !